Clear Creek Watershed Action Plan, Dixon, Illinois
OES worked with the Lost Nation River Conservancy District and local stakeholders to improve water quality in the Clear Creek watershed near Dixon, Illinois using proactive, ecologically sound practices. OES secured funding from the Illinois Environmental Protection Agency to create a watershed action plan, is facilitating the planning effort, and will produce the published watershed action plan. The watershed plan involves mapping ecological features, creating partnerships with local environmental organizations and private landowners, identifying landowners and land tracts to participate in voluntary riverbank restoration projects, and securing funding for restoration through grants and private foundations for implementation projects.

---
Glenn H. Green Memorial Open Space, Project Design and Consultation, Belvidere, Illinois
OES consulted with John R. Cook Associates to create a native restoration and wildlife corridor conceptual plan and implementation plan for a 44-acre floodplain and ridge along Beaver Creek at Glenn Green Memorial Open Space for the Belvidere Park District. With assistance from OES, the prairie was planted in the spring of 2009 with spectacular results.

---
Soil Stabilization Using Native Plantings in Stormwater Drainages, Water Reclamation District, Rockford, Illinois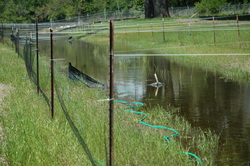 OES worked with Fehr-Graham and Associates to create a native plant restoration plan and implementation plan in conjunction with an Illinois Environmental Protection Agency Stormwater Pollution Prevention Plan for the Rock River Water Reclamation District.

---
Conservation Easement Negotiation and Preserve Planning, Apple River Canyon, Stockton, Illinois
OES is working with voluntary landowners to protect private property along the Apple River with conservation easements or land purchases by the Natural Land Institute.

---
Residential Native Landscaping, Belvidere, Illinois
OES consulted with John R. Cook Associates to utilize native plantings within a comprehensive landscaping plan. OES was the overseer of the planting effort. OES also manages a small prairie planting on the property.

---
Real Estate and Conservation Consultation, Rockford, Illinois
OES is working with a private landowner to realize his goals of protecting and keeping his wooded property as one of five heirs to a family farm. The effort involves real estate consultation and exploring the use of a conservation easement. The property was eventually sold to the Byron Forest Preserve District and will eventually be open to the public.






---
Plant Survey, Wetland Assessment, and Permitting, Monroe, Wisconsin
OES initiated permitting forms and completed a detailed plant survey and wetland assessment to help a private landowner obtain a Wisconsin Department of Natural Resources permit to restore a streambank and create a series of wildlife ponds within a wetland that will be a focal point of a future residential development on the site.


Clear Water Legacy: Phase 3, Kirkland, Illinois
OES wrote a grant application, administered the awarded grant, and coordinated the purchases of four conservation easements along the South Branch of the Kishwaukee River in DeKalb County, Illinois for the Natural Land Institute. In recent years, OES also administered grants and coordinated conservation easement purchases for the first and second phases, and wrote a grant application for a fourth phase. The total project will protect nearly 500 acres of floodplain forest habitat.


---
"Searles Prairie Nature Preserve Enhancement," Project Design and Grant Application, Rockford, Illinois
OES designed the enhancement of Searls Prairie Nature Preserve and creation of a 30-acre habitat buffer for the Rockford Park District, and worked with the District staff to apply for grant funding.


Lockwood and Anna Page Parks Streambank and Sewer Line Restoration, Rockford, Illinois

OES planned the restoration of native plant communities along the banks of Kent Creek in conjunction with in-stream fish habitat reconstruction for the Rockford Park District. OES also assessed the condition of and specified management for a 2006 prairie restoration associated with sewer line construction.


Marshland Greens Open Space Development, Genoa

OES created and proposed a "green," mixed-use development concept plan in Genoa, Illinois with a team of developers, engineers, and municipal leaders including F.I.L.A. Developers, Hoffman Development, Wendler Engineering, and city engineers and staff. This high-density development is based on principals of conservation subdivision design, and includes alternative stormwater treatment methods, open spaces and natural areas, recreation paths, and connectivity to the rest of the community.


Oak Creek Estates Rain Gardens, Genoa, Illinois

OES designed natural plantings for a stormwater retention basin within an existing subdivision for Hoffman Development.

---
Pond Monitoring and Restoration Planning, Madison Club, Burr Ridge, Illinois

OES assessed the condition of a seven-acre pond within a subdivision, and provided a detailed report explaining the conditions of the pond and proposed restoration processes for a private homeowner within the subdivision.

---
Root Length Research for Potential Bioremediation Using Native Plants, Erie, Illinois
OES researched native plant root lengths in relation to their potential for bioremediation of nitrate-contaminated groundwater and soil for LandTech.

---
Olson Ecological Solutions LLC P.O. Box 4631 Rockford, IL 61110 815/985-2689