Rebecca Olson, M.S.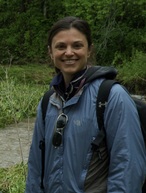 Rebecca is the owner and president of Olson Ecological Solutions, LLC established in 2006. Her work protects, enhances, and creates natural areas and encourages human interaction with nature in various ways. She has played a significant role in preserve planning and preservation of over 1,200 acres of natural areas in northern Illinois. She has secured and administered over $4.7 million for local land planning, conservation, and restoration projects. The projects that she develops and manages provide natural areas in rural and developed settings like river corridors, drainage systems, wetlands, parks, and neighborhoods. Rebecca attended Denison University for her Bachelor of Arts in biology and minor in chemistry. She then received her Master of Science in wildlife biology from Colorado State University. She moved to Rockford in 2000. Prior to Olson Ecological Solutions, she served as the Director of Land Preservation for the Natural Land Institute and assisted in natural area restoration with the Winnebago County Forest Preserve District. Rebecca has served on several board of directors focused on ecological conservation and neighborhood development and currently serves on the Natural Land Institute Land Conservation Committee and Executive Committee of the Keith Parent Association. She has been married to her husband, Scott, for 13 years and has two children.
---
Shannon Thruman, B.A.
Shannon is a field ecologist and has been working for Olson Ecological Solutions for over three years. She assists with plant surveying, technical aspects of restoration, and grant research. She has been an ecologist for 20 years and received her bachelors degree from The College of the Atlantic in Bar Harbor, Maine. She worked as the nursery manager for Natural Land Institute and was a seed harvester at the Nature Conservancy's Nachusa Grasslands. From 2001-2006, Shannon bought and ran Ender's Greenhouse a 28,000-square foot greenhouse in Cherry Valley, IL. She grew and sold native plants wholesale and retail. She also provided native-planting consultation to homeowners. Shannon has currently serves on board at Montessori Private Academy. Shannon and husband, Matt have been married for 11 years and have two children.
---
Olson Ecological Solutions LLC P.O. Box 4631 Rockford, IL 61110 815/985-2689